"I REFUSE!" Don't just keep this thought in your mind, say it out as often as possible. "I refuse to give up." "I refuse to accept defeat". Declaring this loudly as daily motivation will help you to get them registered in your subconscious mind. And in return, your subconscious mind helps you to react automatically to issues without special thoughts.
It is important to refuse where you are, when you know you are not where you should be. You know where you need to be, why accepting the limitations on the way? Why giving in for doubt? 'Maybe it's not possible?' 'Maybe it's not meant for me?
If you could imagine it, you can bring it to reality. Don't accept the doubt. Don't accept the fear. I dare you to refuse them all. Say it and mean it "I REFUSE!".
An average woman desires to have a baby despite the fact of her knowledge about the pains of delivery. But she keeps up the desire because of the joy that will come after. Think of the joy beyond the walls of your challenges. Think of how much your impact will be felt if you could achieve it.
The society must not limit how far I can go with their opinions. I Refuse to be distracted. Stand, say it authoritatively and work towards it. It should be your daily motivation.
It is your life. Take it serious now or be ready to answer the question 'but why' to your 'future-self'.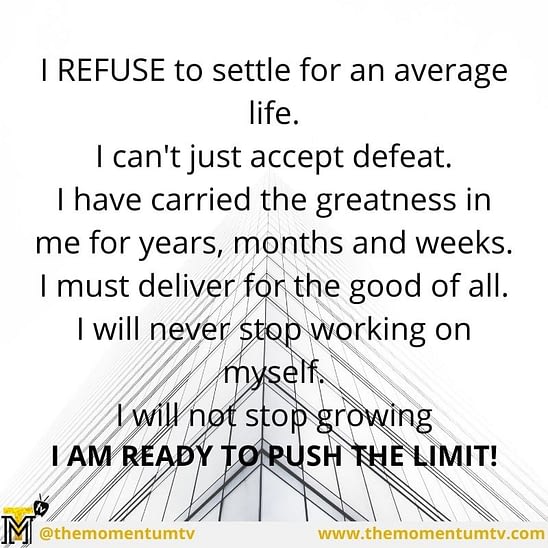 I REFUSE to settle for an average life.
I can't just accept the defeat.
I have carried the greatness in me for years, months and weeks.
I must deliver for the good of all.
I will never stop working on myself.
I will not stop growing
I AM READY TO PUSH THE LIMIT!
---
If Found Useful, Don't Forget To Share Through The Links Below

A blogger, author, speaker, and researcher. Founder of The Momentum Motivational Tv, TMtv. Main goal in all my endeavors is to develop humanity through helpful contents.