Key to success is preparation. Success is the seed that proves your preparation at the point of tapping into an opportunity. Opportunity can either locate you or you locate it, but what makes success out of opportunity is simply your level of preparation.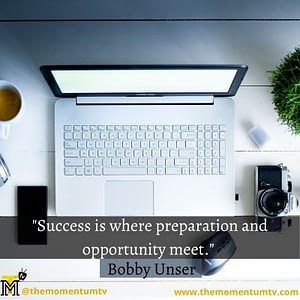 It is important for any one desiring success in life to know that success has a price, and one of the prices you pay for success is preparation. Therefore, you should get prepared for whatever you are aiming or dreaming. A common mindset in this generation is to dream big, but act/think small. Set your actions and thinking in line to the great expectations.
Ability to prepare for expectation is what distinguishes a winner from a loser. Winners know the secrete that their preparation is the key to their success, and that is why you see them working ahead of time. For instance, every athlete expect victory after a competition, but only one person can emerge as the winner. The one who can go extra mile when others have tried enough is the one with that chance of taking the lead above the rest. GET THE KEY TO YOUR SUCCESS THROUGH PREPARATION.
You are planning to study further but no adequate resources, how prepared are you for the opportunity of scholarship that might come your way even when you are not expecting. You want to start a business, how prepared are you? What do you know about the business? All you know is just that you are starting a business, but if  opportunity for grant presents itself, how deep can you defend this without stress?
One thing that can affect your success is procrastination. Try as much as possible not to procrastinate. Procrastination is one of the enemy of adequate preparation. You may ask, How do I overcome procrastination? To overcome procrastination, be disciplined to do whatever crosses your mind towards the achievement of your dream as instant as possible. A little delay can be dangerous and this might cost you another long period to get the opportunity again.
"The damage done in one year can sometimes take ten or twenty years to repair." – Chinua Achebe (Read his history and more of his motivational quotes)
Prepare, even if you do not see it coming, set your believe high, set your thinking positive. If people ask what you are doing, tell them you are preparing towards the day you will need it. You see yourself as a leader one day, how many leaders are you following to learn from? How many books on leadership are you reading now?
The question is, how can your be prepared for success? Preparation can come in anyways, it can come from what you read, listen to, watch, do, and the kind of people you move with. Read, watch and listen to things that will help you. You want to be a professional film maker. How many film makers do you know? How far have you studies about their failures and successes? What do you know about camera even if you don't have a penny to afford one now?
Preparation makes you speak authoritatively on that level of success you are expecting as if you have gotten the opportunity already.
I dare you to prepare adequately for your expectations, and start now!
Related Article: I REFUSE – Daily Motivation
---
Subscribe For Email Alert And Don't Forget To Share Through The Links Below If Found Useful

A blogger, author, speaker, and researcher. Founder of The Momentum Motivational Tv, TMtv. Main goal in all my endeavors is to develop humanity through helpful contents.